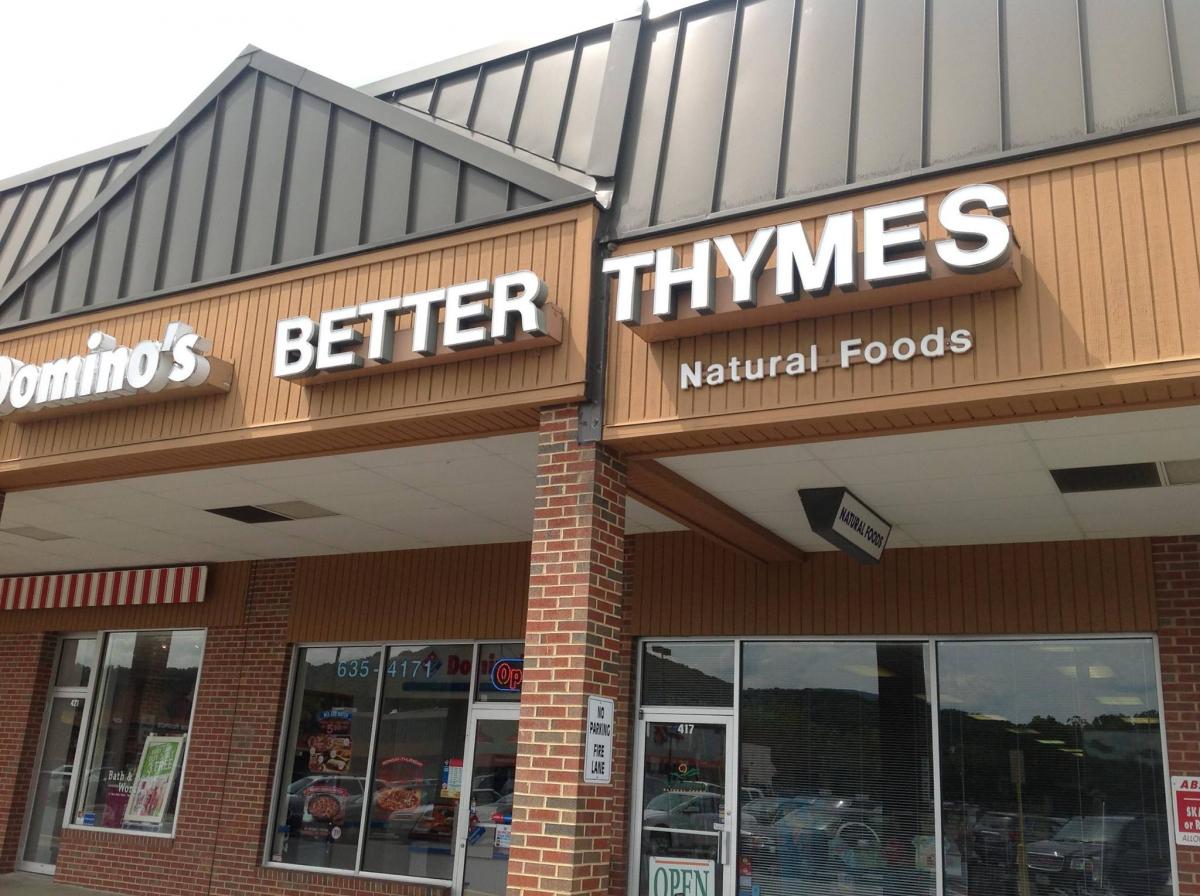 History of Better Thymes Natural Foods
Front Royal, Virginia had everything: clean air, beautiful mountains, the Appalachian Trail, the Shenandoah River, and peace and quiet... it was a nature lovers dream. The only thing it did not have at the time was a place where granola and tofu could be easily acquired and a vegetarian could eat without having to travel far from home. Thus, Better Thymes Natural Foods was born. 
In 1980, Better Thymes opened its doors and started offering healthy foods to the public. Owner, Denise de la Montaigne started out on South Royal Avenue in Front Royal in a tiny 500 square foot space. She, herself, was the only employee. The positive response to the store was overwhelming and in just three short years Better Thymes moved to a new location double the size of the old. This location, the first floor of a house, was only a half of a block down the street from the original but the difference in exposure, setting, parking and atmosphere was monumental. The store continued to thrive over the next seven years with new products, categories and whole sections being added all the time. The store now had a staff of three and they were kept busy Monday through Saturday helping customers. 
In 1990, Better Thymes doubled its size once more and moved to the Royal Plaza Shopping Center. Now offering an even wider variety of natural foods and supplements the success of the store continued. Granola and tofu were not just for "health nuts" and vegetarians anymore. Healthier foods were becoming a common household staple and the demand for more variety raged on. Meeting these demands, Denise expanded once more in 1998 to it's current, largest location. 
Better Thymes now occupies 2,400 square foot of space with an inventory that could easily spread out in a store three times that size. Every square inch of space is utilized so that more and more product can be kept in stock. Keeping sight of the old and introducing new products every week has helped keep Better Thymes a progressive, successful store. From a tiny business with one employee to the thriving corporation it is now, with employees ranging in the double digits and sales at an all time high, the success of the store remains strong and the selling of granola and tofu lives on.
Meet Our Staff
Store Owner
Denise

As owner/manager of Better Thymes Natural Foods, Denise has a busy schedule. "I feel so fortunate to go to work each day that it never seems like a chore", says Denise. "My staff is fantastic and our customers are the best around.  Being involved in such a vibrant enterprise is exciting and I am proud of the selection we offer at Better Thymes". Better Thymes is a member of the Natural Products Association and Denise is Past President of the East Region of the NPA. 
Sales Staff
Carol

A familiar face at Better Thymes, Carol has been an integral part of the store for the past 28 years.  If there is a task to be done, Carol can accomplish it.  But BT is only her day job; she also is a 6 Dan Rokyu blackbelt in karate and teaches womens' karate classes in the evenings.
Sales Staff
Jill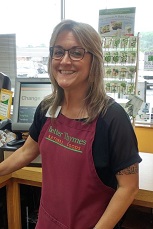 Jill moved to Front Royal in October of 2015 and fit into Better Thymes' staff like a hand in a glove.  She had substantial prior experience in the natural foods industry and has continued her quest for knowledge while working here full time.  She always has a kind word and is ready to lend a hand both to customers and fellow staffers.
Sales Staff
Kim

Kim may be a "new" face at Better Thymes now but she worked here back in the late 80's. She moved out of the area but continued working in the natural health field and upon returning to Front Royal and looking for a job, I said "come on aboard!".  We are happy to have her back and know that you will enjoy her wealth of knowledge and beautiful smile.
Store Policies / Services
Return Policy 
Better Thymes Natural Foods guarantees 100% Customer Satisfaction on most products purchased from our store. If a customer is not happy with an item purchased they may return the item within 30 days from the sale date for a full refund of the purchase price with a valid sales receipt.
Return Exclusions 
Our standard return policies do not apply to all items. Below are items that cannot be returned and cannot be refunded: Books, Gift Cards, Bulk Herbs, and Bulk Foods, partial cases of items purchased by the case at a discount or any special order product that we do not normally stock on our shelves.
Join Us! 
Better Thymes is now accepting applications for employment.
Full time, year round only, weekdays and weekends
Application forms available at the front counter of the store.